Things to look forward to…
Queen of Hearts every Friday Night!! - Drawing begins at 7pm

Monday Night Dinners - No Food for June on Mondays 
Line Dancing NOW on Monday's w/Tom and Chi starts at 6:00 PM
Wednesdays are Burgers & Brats night 6/7, 6/14, 6/21,6/28
Moose Legion Committee meeting 6/14 @ 7 PM
by Moose Legion & Jimmy Welch  
Thursdays - David "Daze" Florentine making some yummy dinners every Thursday 6/8, 6/22
Call lodge or check Facebook for menu each week
Friday Night Dinners are scrumptious – 6/2, 6/9, 6/16, 6/23, 6/30
Queen of Hearts @ 7:00 PM
6/9 WOTM Fundraiser dinner - Higher Degree - AOF Chair Dinner Starts @ 6PM  
6/23 WOTM Dinner Starts @ 6 PM

NASCAR Sundays – Lodge will open on @ Noon for the NASCAR races Potluck – bring a dish to share
Father's Day Brunch Sunday 6/18 - By the WOTM - All Father's eat for free

Annual Conference in Sparks, NV - June 20th - 23rd

Moose Legion Meeting @ Escondido Lodge - Executive Mtg @ 11 AM General Mtg @ noon
District Meeting @ Escondido Lodge - Executive Mtg @ 2 pm General Mtg @ 3 PM
---
Needy Family Fundraiser - Comedy Show and Dinner June 24th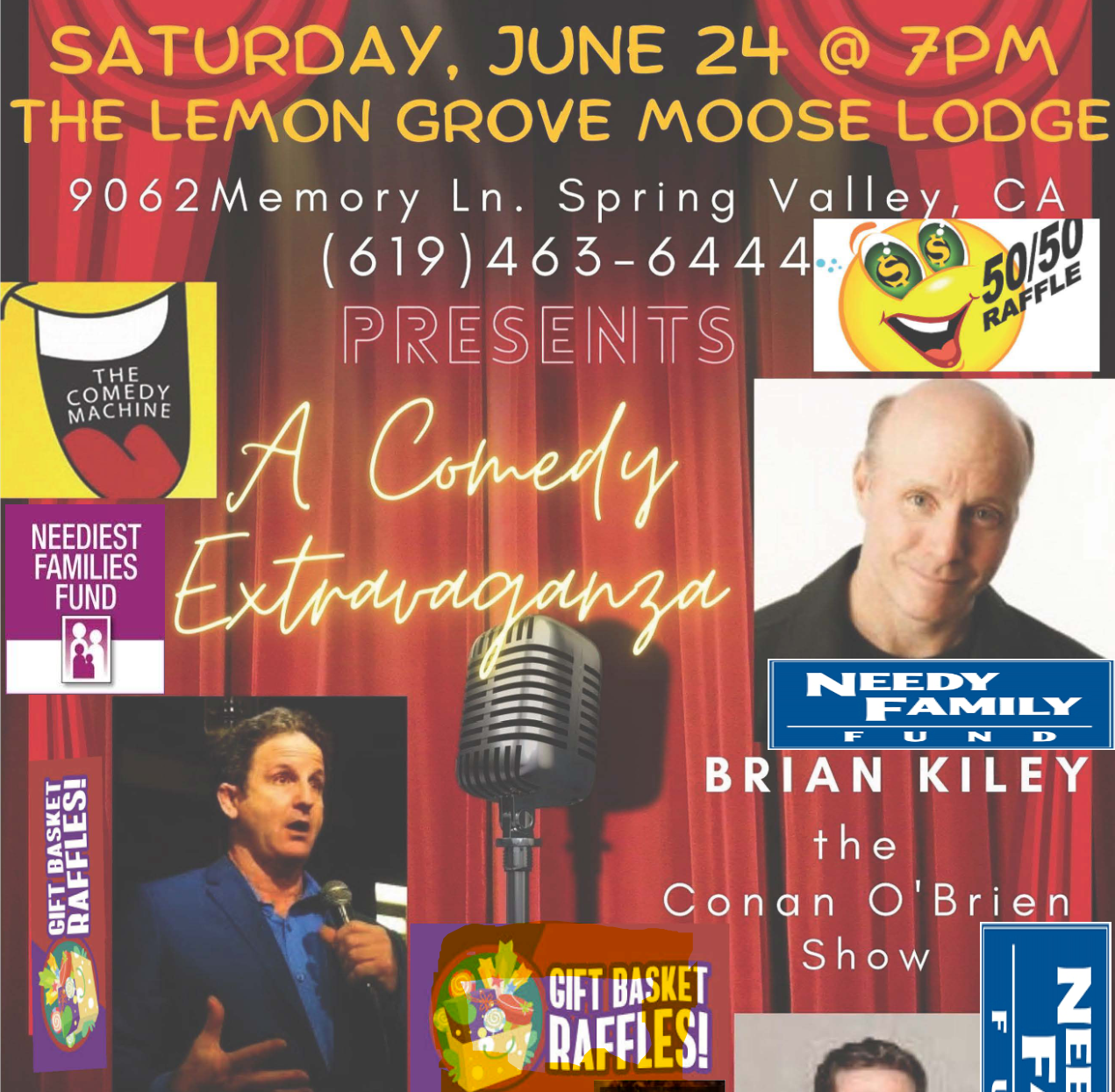 ---
President's Desk
Hello Brothers and Sisters,
Well, spring is coming to an end and bringing us into summer. This is a jam-packed month for many of you as there are graduations and promotions, grad and promotion parties etc. 
We also have the convention in Reno as well as our Comedy Show, which includes a tri-tip dinner coming up this month and the tickets are $25. The comedy show will be on June 24th and the annual moose convention in Reno will be from June 20th thru June 23rd. 
Please check out our calendar, our website as well as our Facebook page for any updates.
Sincerely,
Jim Tillis
President
---
Senior Regent's Desk
Hello Sisters,
May 12th Friday night dinner was very successful.  I hope those that came for Mother Days Breakfast enjoyed it.  I want to thank our men who prepared the wonderful breakfast for the moms.
June is going to be a very busy month.  The chapter will be preparing a father's days Bunch. We will have our Friday night dinners.  Be sure to check the calendar. I will be bringing back new information from Convention.  
I just found out from our magazine that we now have children on a waiting list for Mooseheart.
Until next time be safe.
Gerry Shaumeyer
Senior Regent
---
Heart of the Community Posting:
Hello All,
I am pleased to announce the 2023 dates for the American Cancer Society's Relay for Life events. For the greater San Diego area, there are going to be two relays this year.
The first one is scheduled Saturday, July 29th, 2023, and will be held at the San Dieguito Sports Complex the address is 2275 Calle Barcelona, Carlsbad, CA 92009. It will last from 12pm to 5pm.
The second one is scheduled for Saturday, August 5th, 2023, at this time the location and time are still to be determined. Once the details are available, I will send out an additional notice with those details.
In regard to Loyal Orders' involvement this year, in conjunction with our partnership with the American Cancer Society, I have committed our region to raising $200 total for the charity. Which is a very easy to obtain goal. 
For those of you who participated in the walk last year at MiraCosta College, you'll remember that the Relay for Life is an all-day event and is an at your own pace walk for cancer research.
As a general reminder, do plan for the weather for since this year both relays will be hosted in middle of Summer, so plan for hot conditions. Hats, sunscreen, light clothing, any Moose related attire and drink plenty of water. 
Unfortunately, we all know someone amongst our lodges and in the world who: has, had, or died from cancer. So, this event like many of their events is our opportunity to continue to serve our communities and fulfill our heart of the community requirements.
Please if you are interested and are available on or both of the Saturday's we would greatly appreciate your participation and attendance. Last year we had 12 total members from both Lemon Grove and Kearny Mesa participate, but this year let's get at least 30 or more participants.
Thank you all for your attention, and I sincerely hope that you will participate this year.
Best,
Gerren Hall