Things to look forward to…
Annual CA/NV Conference 2022 - September 15 - September 18
Sparks, NV
Queen of Hearts every Friday Night!! - Drawing begins at 7pm

Monday Night Dinners are Great!  - Closed 9/5 Labor Day – 9/12, 9/19, 9/26

Line Dancing NOW on Monday's w/Tom and Chi starts at 6:00 PM 

Wednesdays are Burgers & Brats night 

Moose Legion General meeting 9/14 @ 7 PM
by Manny Romo & Jimmy Welch – 9/7, 9/14, 9/21, 9/28 
Dance lessons start @ 6:00 PM


Friday Night Dinners are scrumptious – 9/2, 9/9, 9/16, 9/23, 9/30

Queen of Hearts @ 7:00 PM


Moose Legion Breakfast September 11th @ 9 AM - noon

WOTM Fundraiser Dinner for Priscilla Mackey September 23rd at 6PM

Andy Underwood and crew will be serving up Chicken Parmigiana, Cheese tortellini, broccoli & dessert
50/50 opportunity drawing & raffle baskets
Gerren DJ & Karaoke

Luau has been postponed until October date to be determined

   To see what we're serving on other days, please click HERE to go to the calendar.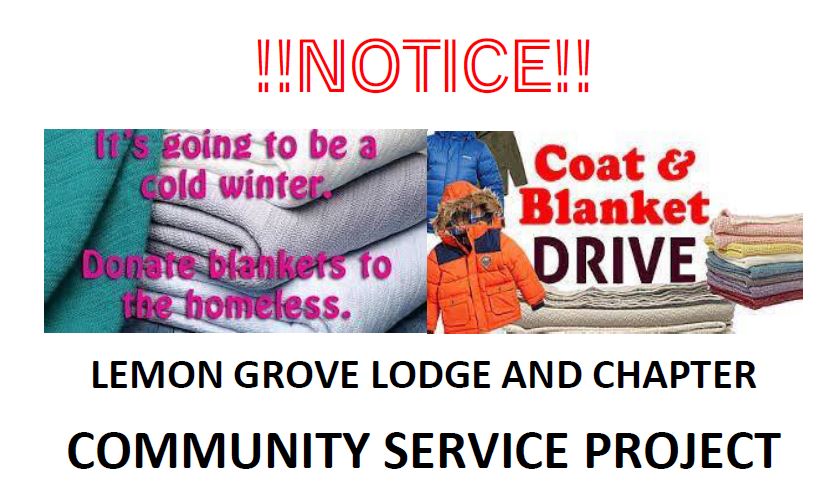 Click HERE to download the flyer.
---
President's Desk
!!Notice!!
LEMON GROVE LODGE AND CHAPTER
COMMUNITY SERVICE PROJECT
During the month of OCTOBER, we will be collecting blankets, coats and jackets, sweatshirts, and socks to donate to the homeless shelters. Winter is coming and many in our community are in need of these items. Now is the time to go through your closets, drawers and cupboards and pull out those items you no longer use or need. Bring your gently used items and new socks to the lodge where we will have boxes to accept your donations. In early November, these will be delivered to those in need.
Please help make this project a success.
Thank you,
JP Shelton
Special Chairman
---
Senior Regent's Desk
Hello Sisters;
Well here we are embarking upon autumn we've had a very nice summer and are looking forward to getting into the cooler months please take a look at our calendar each month as we will be updating when we can also we still do need volunteers if you come down to fill some salt and pepper shakers or to put napkins in the napkin dispenser that's all good we need people like that. We also need people to cook on our Monday nights. Monday night dinners makes our money so that we can continue to support Mooseheart and Moosehaven by holding these dinners so please consider donating your time and talents in an effort to help our kids & our seniors to live a blessed life. 
Sincerely,
Dee Dee Tillis
Sr. Regent